Here you'll find some interior design trends you can expect to see this year that will inspire you to incorporate an on-trend living space into your 2022 plan.
Trend #1: Neutral Colour Palette
Using lighter colours helps to make a space feel larger!
Choosing a neutral colour scheme can benefit you in numerous ways; it can be the canvas of colour that gives you the freedom to experiment with textiles and accessories in bolder, more vivid colours.

SHOP THE TREND AT OUR STUDIO SHOP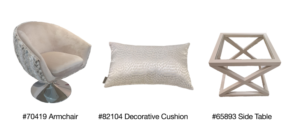 Trend #2: Green Colours – The highlight colour of the year
Earthy neutrals and nature-inspired greens are going to be the go-to colours in 2022, as people yearn to bring a sense of nature into their homes.
Various shades of green, especially sage, can create a refreshing ambiance without dominating the overall look. So, if you want to create a subtle but dramatic atmosphere in your home, the colour green is the key component.
SHOP THE TREND AT OUR STUDIO SHOP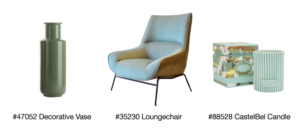 Trend #3: Curvy Furniture & Decor
Unlike past trends of clean, sharp edges and modern lines that can create a feeling of too much order and lead to a sense of discomfort or inflexibility, we are now seeing more rounded shapes in furniture, lighting, and decor. Incorporating more organic shapes adds softness to a design. They make a space feel more comfortable and offer a sense of clarity, precision, and freshness to a room.
SHOP THE TREND AT OUR STUDIO SHOP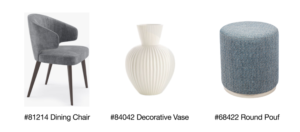 We look forward to seeing you soon!